America's Cup Racing Returns to U.S.A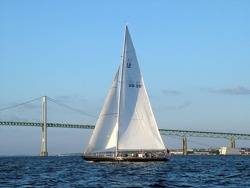 America's Cup yacht racing returns to the US with inaugural series championship to be determined in Newport, Rhode Island
America's Cup racing returns to the United States next month when the AC World Series brings nine of the top sailing crews in the world to Newport, R.I. The American team, ORACLE TEAM USA, currently leads the AC World Series by one point, so the final stop on the 2011-12 AC World Series circuit will determine the overall winner of the first-ever season.
Nine crews from seven countries are competing in the AC World Series, including: Artemis Racing (Sweden), skipper Terry Hutchinson; China Team (China), skipper Phil Robertson; Emirates Team New Zealand (New Zealand), skipper Dean Barker; Energy Team (France), helmsman Loïck Peyron; Luna Rossa Challenge (Italy), with two boats, helmsmen Chris Draper and Paul Campbell-James; ORACLE TEAM USA with two boats, skippers James Spithill and Darren Bundock; and Team Korea (Korea) with skipper Nathan Outteridge.
One of the most fiercely competitive and sought after trophies in all of sport, the America's Cup was first raced in 1851, 45 years before the modern Olympics. The U.S. yacht America won, giving the international sailing competition its name. The next Louis Vuitton Cup, America's Cup Challenger Series (July-August 2013) and America's Cup Match (September 2013) will be held for the first time in San Francisco Bay.