Euronav Announces IPO in the US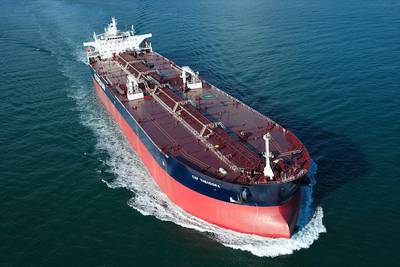 Euronav NV announced the commencement of its underwritten initial public offering in the United States of 13,550,000 ordinary shares. The company will grant the underwriters a 30-day option to purchase additional ordinary shares representing up to 15% of the offered shares.
On January 19, 2015 the closing price of the company's ordinary shares on Euronext Brussels was $12.94 per share (based upon the
Bloomberg Composite
Rate of EUR 0.8604 per $1.00 USD in effect on that date). The company has been approved to list its ordinary shares on the
New York Stock Exchange
(NYSE) under the symbol EURN. Following the completion of this underwritten initial public offering in the United States, it is expected that the company's shares will be listed on both Euronext Brussels and the NYSE.
The company said it may use the offering's net proceeds for general corporate purposes and working capital, which may include the acquisition of additional new or secondhand vessels. In addition, the company said it may use all or a portion of the net proceeds of this offering to repay some of its existing indebtedness.
Deutsche Bank Securities Inc., Citigroup Global Markets Inc., J.P. Morgan Securities LLC and Morgan Stanley & Co. LLC are acting as joint book-running managers and as representatives of the underwriters for the initial public offering in the United States. DNB Markets, Inc., Skandinaviska Enskilda Banken AB (publ) and Evercore Group L.L.C. are acting as senior managers. ABN Amro Securities (USA), Scotia Capital (USA) Inc., Clarkson Capital Markets LLC and KBC Securities USA, Inc. are acting as co-managers.