Anschütz SYNTACS Aims to Enhance Coastal Protection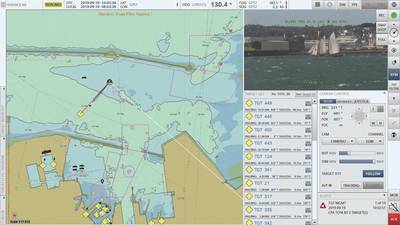 Anschütz' SYNTACS command and control system provides operators aboard and ashore with comprehensive situational awareness and full command of the scene from a single workstation.
SYNTACS is sensor-agnostic and features advanced tactical target management that analyzes and correlates data from multiple onboard navigational and surveillance systems. It compiles an operational picture from the data and presents the operator with a clearly structured dashboard for tactical navigation, mission planning and execution, and basic combat capability.
Capabilities include:
Solid-state radar for surveillance and navigation (type-approved).
Defined alarm and guard zones with integrated intercept capability.
Seamlessly integrated electro-optical system for identification and monitoring.
Integration and engagement of self-contained weapon systems.
Data links to share tracks, targets and a common operational picture.
Modules for mission management, mission data recording, or search and rescue.
SYNTACS is deployed on dozens of patrol vessels and interceptors. Anschütz is the primary mission system integrator of the HSI32 high-speed interceptors built by French shipyard CMN NAVAL.