Report: Growth Anticipated in the OSV Market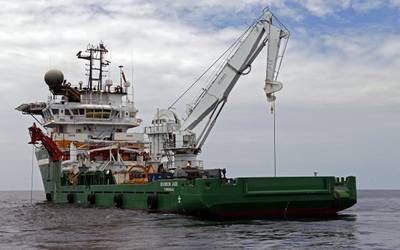 New report covers market trends to 2019 for global offshore support vessel (anchor handling, towing and supply vessel, platform supply vessel, multipurpose service vessel, crew vessels, standby and rescue vessels, others)
The global offshore support vessel market is expected to grow owing to the need to satisfy rising marine logistics demand. The lucrative and high-investment areas of offshore regions such as North Sea, U.S
Gulf of Mexico
and new discoveries in
West Africa
are the key driving factors for the high growth of offshore support vessel market.
The offshore support vessels or OSVs are vessels used in the marine industry. The designs of the OSV are unique, and each type has its own properties and features, as per the type of operation. OSVs are efficient and vital components of the oil & gas industry. They provide logistic facility along with various other supporting activities including platform support, anchor handling, standby facility, rescue and many more.
The new report, "Offshore Support Vessel Market by Type, by Geography - Global Trends to 2019", analyzes the number of offshore support vessels with respect to demand and supply. The study segments the global offshore support vessel market by types which include Anchor Handling, Towing and Supply Vessel (AHTS), Platform Supply Vessels (PSV), Multi-Purpose Service Vessel (MPSV), Crew boats ,Standby and Rescue vessels and Others. The report also analyze OSV market in different geographic regions including North America, South America, Europe, Asia-Pacific, West and South Africa, Middle East and ROW.
Continuous progress in offshore oil and gas industry, increase in rigs count and exploration rate create strong prospects for the future of offshore support vessel market globally.The market for offshore support vessels is expected to reach a value of $71.23 billion by 2019, at a CAGR of 11.3%. Anchor Handling, Towing and Supply Vessel (AHTS) Supply Vessels (PSV) lead the market and are estimated to reach a value of $40.21 billion by the year 2019. The AHTS market is expected to grow at a CAGR of 12.1% owing to the increased amount of day rates in North America, Europe and West Africa.
The offshore support vessel market is also analyzed with respect to Porter's Five Forces model. Different market forces such as suppliers' power, buyers' power, degree of competition, threat of substitutes, and threat of new entrants are analyzed with respect to the offshore support vessel industry. The report also provides a competitive landscape of major market players around the globe that includes developments, mergers and acquisition, expansion and investments, agreements and contracts, new technologies developments, and others. A number of these developments are pertaining to the key industry players that suggest the growth strategy of these companies as well as of the overall industry.
The report also provides a comprehensive review of major market drivers, restraints, opportunities, challenges, winning imperatives, and key burning issues in the offshore support vessel market. Key players in the industry are profiled in detail with their recent developments.