Geo Shipyard Delivers R/V Apalachee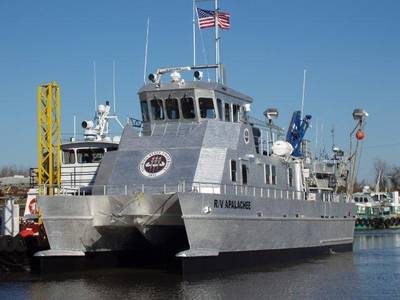 Geo Shipyard Inc, New Iberia, La, delivered the R/V Apalachee, a 64x21x9', aluminum catamaran for Florida State University Coastal and Marine Laboratory, St Teresa, Florida.

Designed by Fyffe Yachts with NC lofting by Eli Ring, VP of Advance Fabricating, both of Kemah, Texas, the 48 passenger T-boat will support a verity of research missions in the Gulf of Mexico. DeJong and Lebet, Inc., Jacksonville, Florida provided construction oversight and plan review.

Power for the new boat is supplied by a pair of John Deere 6135 SFM engines rated at 500 hp at 1,900 rpm from Allemand Industries, Harvey, La. The six cylinder engines turn Twin Disc MGX-5114 SC gear boxes, Driveline Service of Portland shafts and ZF 36 inch diameter nybral four-blade propellers.

Twin Northern Lights generators of 30 kw each are fitted with a Gems split bus switchgear and Panel Tronics distribution to supply three phase power to Cruiseair conditioners, a full galley, wet lab, dry lab, watermaker, dive air compressor and small ROV.

The Apalachee is configured to sustain single compartment damage, 2,600 gallons of fuel, 325 gallons of fresh water and holding capacity. She has a full load draft of 4'-8" with 50 ltons of displacement. Speed made good on trials was in excess of 24 knots. During the delivery a speed of 18 knots was sustained at 67% full power burning a total of 31.6 gph.

Sound studies measured 82 db at the helm, galley, mess and head, 78 in the four man stateroom, 84 in the dry lab and 87 in the wet lab.

The Apalachee structural design exceeds ABS high speed code for exposed routes and is USCG approved for 21 knots in 10 foot seas. The boat is outfitted with a custom 3,000 pound capacity A-frame and trawl winch for over the stern operations. A Rapp Hydra Pro 5.5 mt knuckle boom crane on the port side is utilized for shore side transfer as well as offshore deployment of the Zodiac utility boat.

The Apalachee is the flagship of the FSUCML fleet. The vessel is equipped with oceanographic devices designed to enable scientists and students to conduct research on the ocean's biological, chemical, geological and physical characteristics that affect global and coastal oceans.