Austal Graduates Four-Year Apprentices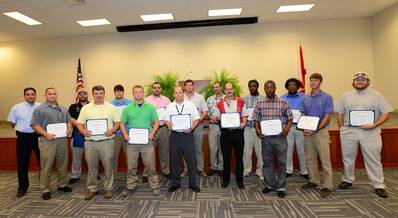 Part of Austal's growing talent pool – 3,000 and counting.

Austal USA honored 15 graduates of Austal's cutting-edge four-year apprenticeship program yesterday at a ceremony held in the new Office Complex Multi-Use Room. This was recently the same backdrop for a ribbon-cutting ceremony which celebrated the official opening of three new buildings at Austal's state-of-the-art shipbuilding operation in Mobile, Ala. The graduates received their certificates of completion and designation as Department of Labor Class A Journeymen. The graduating class consisted of 6 electrical journeymen, 4 pipe fitting journeymen, and 5 fabrication journeymen.

Special recognition went to Bill Ray Stroup, Jr., as the class valedictorian, as he was presented with the "Ross Latapie Award of Excellence". This award was named in memory of Mr. Ross Latapie, a former apprentice who worked tirelessly to increase his knowledge of the electrician trade by completing extra classroom and laboratory assignments from his instructors. He currently holds the record for the highest Austal USA apprenticeship academic GPA of 4.0.
Commenting on the continuing success of Austal's apprenticeship program, Mr. Brian Leathers, Austal USA Interim President / CFO said, "This is a shining moment for these 15 graduates and their families. Austal USA is pleased with our ability to continually improve our workforce annually with the introduction of a new group of highly-trained production workers as a result of the success of this program."

Austal's apprenticeship program is certified by the U.S. Department of Labor, Alabama Department of Post Secondary Education, and the Veteran's Administration. It is governed by the Department of Labor Standards of Apprenticeship for the respective trades of Pipefitter, Marine Electrician, Fabricator, and Fitout. The Alabama Department of Post Secondary Education has approved our four trade programs for the Veteran's Administration which means that all eligible veterans may now apply for and receive GI Bill benefits that were earned for military service. The Department of Labor requires that each candidate complete a minimum of 576 hours of classroom time and an additional 8,000 hours of on-the-job-learning over the four-year period. For more information about Austal's recruiting efforts, visit www.austaljobs.com.