Coast Guard Commandant Testifies on Appropriations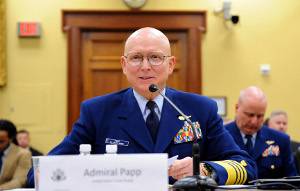 U.S. Coast Guard Commandant Adm. Bob Papp testified before the House Subcommittee on Homeland Security Appropriations here, Thursday, about the Coast Guard's budget for fiscal year 2012.
Adm.
Papp spoke
about the service's fiscal year 2012 budget request and provided committee members a snapshot of recent Coast Guard operations including vessel traffic management on the St. Marys River in Michigan, anti-piracy operations in the Gulf of Aden, the rescue of workers from an oil platform fire in the Gulf of Mexico, interdiction of a semi-submersible, self-propelled vessel in the Eastern Pacific Ocean and the recent repatriation of migrants interdicted in the Straits of Florida.
"These missions protect U.S. national interests, and they're missions that only the Coast Guard has the authority, competency and capability to do," said Papp. "No one else can do what we do. Our homeland is safer and more secure because Coast Guard men and women perform them so ably. But what concerns me is that our aging fleet of cutters and aircraft continue to cost us, both in dollars and mission performance. It is vital that we protect our waterways by sustaining front line operations while continuing our recapitalization efforts."
Adm. Papp's full written testimony is as follows:
INTRODUCTION
Good morning Mr. Chairman and distinguished members of the Committee. Thank you for the
continuing support you have shown to the men and women of the United States Coast Guard.
Most recently, your support in passage of the Coast Guard Authorization Act of 2010 provided
the Coast Guard with improved acquisition oversight, enhanced workforce expertise and
partnerships, and the ability to move forward with key modernization initiatives to enhance
mission execution.
I am here today to discuss the Coast Guard's Fiscal Year (FY) 2012 Budget Request. Before I
discuss the details of the request, I would like to take this opportunity to discuss the Coast
Guard's value and role, some of our recent operations, including our recent response to the BP
For more than 220 years, the U.S. Coast Guard has safeguarded the Nation's maritime interests and natural resources on our rivers and ports, in the littoral regions, on the high seas, and around the world. The Coast Guard saves those in peril and protects the Nation's maritime border, marine transportation system, natural resources, and the environment. Over the past year, Coast Guard men and women – active duty, reserve, civilian and auxiliarists alike – continued to deliver premier service to the public. They saved over four thousand lives, protected our borders by stopping the flow of drugs and illegal migrants, and performed admirably in response to the largest spill in our nation's history – the Deepwater Horizon oil spill.
How does the Coast Guard operating model serve our public? The Coast Guard is an adaptable, responsive, military force of maritime professionals whose broad legal authorities, assets, geographic diversity, and expansive partnerships provide a persistent presence in the inland waters, ports, coastal regions, and far offshore areas of operations. This presence, coupled with over 220 years of experience as the Nation's maritime first responder, provides our Nation with tremendous value in service to the public.
The Coast Guard's value and role:
• We protect those on the sea:
• leading responses to maritime disasters and threats, ensuring a safe and secure maritime transportation system, preventing incidents, and rescuing those in distress.
We protect America from threats delivered by sea:
• enforcing laws and treaties, securing our ocean resources, and ensuring the
integrity of our maritime domain from illegal activity.
We protect the sea itself: regulating hazardous cargo transportation, holding responsible parties accountable for environmental damage and cleanup, and protecting living marine and natural resources.
The Coast Guard, working through DHS, led the Administration's response to the BP Deepwater Horizon oil spill, the first-ever Spill of National Significance, leveraging resources from across the country and around the world. The Coast Guard was the first agency on scene the night the Mobile Offshore Drilling Unit (MODU) Deepwater Horizon exploded, searching for those in distress and providing Federal on-scene presence.
During the response, the Coast Guard worked closely with our Federal partners and industry to
leverage resources where needed while carrying out our other missions throughout the world. From nearly every corner of the country the Coast Guard surged over 7,000 people, including members of the Coast Guard Reserve and Auxiliary, to support the response. Coast Guard members served in cutters and boats, in fixed and rotary-wing aircraft, and in the shore-side incident command system. The Coast Guard's adaptive operational model allowed for the:
• Integration of government and industry to contain the spill, recover more than 34.7 million gallons of oil-water mix, and perform controlled burns to remove more than 11 million gallons of oil from open water to protect the shoreline and wildlife.
• Deployment of 46 cutters and 22 aircraft. Surface assets included Medium Endurance
Cutters (210-ft and 270-ft), Sea-going and Coastal Buoy Tenders (225-ft and 175-ft), Ice Breaking Tugs (140-ft) and Patrol Boats (179-ft, 110-ft and 87-ft). Air assets included Long and Medium-range Surveillance Aircraft (HC-130 and HC-144A) and Short and Medium Range helicopters (HH-60 and HH-65).
While 2010 was another exceptional "operational year" by any standard, these operations further stressed existing aged and obsolete cutters, boats, aircraft and support infrastructure that are in dire need of recapitalization. Furthermore, these extended surge operations strained workforce readiness due to increased op-tempo and deferred training. Even in the current fiscal environment where resources are scarce, we must continue to rebuild the Coast Guard, support front-line operations, invest in our people and families, and enhance maritime incident
prevention and response capabilities to meet mission demands and ensure resiliency in the
maritime domain.
FY 2012 REQUEST
In Fiscal Year 2012, the Coast Guard will focus resources to advance strategic priorities. Through tough decisions and resource trade-offs, the Coast Guard's FY 2012 budget leverages savings generated through management efficiencies and offsets, and allocates funding toward higher order needs to support front-line operations. These offsets and reductions supported implementation of the following FY 2012 budget priorities:
• Rebuild the Coast Guard
• Sustain Front-line Operations
• Enhance Maritime Incident Prevention and Response
• Support Military Families
Rebuild the Coast Guard
The Coast Guard's FY 2012 budget requests $1.4 billion to continue recapitalization of cutters; boats; aircraft; Command, Control, Communications, Computers, Intelligence, Surveillance, and Reconnaissance (C4ISR) systems; and infrastructure to improve mission readiness by replacing aged, obsolete, and unreliable assets. The FY 2012 budget requests funding for 40 Response Boats and six Fast Response Cutters, as well as a sizable investment in the renovation and restoration of shore facilities. This budget also provides resources to ensure that the Coast Guard's aviation fleet is mission-ready through the acquisition of two Maritime Patrol Aircraft one HH-60 helicopter, and conversion and sustainment projects of multiple aircraft. Investment in Coast Guard recapitalization is essential to mission execution.
Sustain Front-line Operations.
To ensure the Coast Guard is able to meet the needs of the Nation, the FY 2012 budget balances resources between investments in capital assets, initiatives to sustain front-line operations, and measures to enhance mission execution. The FY 2012 budget requests $67.7 million to operate new assets delivered through asset recapitalization programs and provides funding to support personnel and in-service assets. Moreover, funding is included to operate CGC HEALY and support the operational reactivation of CGC POLAR STAR. The Coast Guard plans to decommission CGC POLAR SEA in FY 2011 and transition her crew to CGC POLAR STAR, enabling orderly transition to CGC POLAR STAR and facilitating her return to operations in FY 2013.
Enhance Maritime Incident Prevention and Response
Coast Guard Marine Safety and Environmental Response personnel promote safe and efficient travel, facilitate the flow of commerce in the maritime domain, and protect our natural resources.
The FY 2012 budget requests $22.2 million to advance implementation of the Coast Guard's
Marine Safety Performance Plan and Marine Environmental Response Mission Performance Plan. During the response to the Deepwater Horizon oil spill, Coast Guard incident responders
established and executed the Incident Command System to lead an effective, unified effort.
The Coast Guard will enhance these core competencies in FY 2012 to keep pace with an evergrowing and evolving maritime industry and ensure continued proactive leadership to prevent disasters on the Nation's waters and remain ready to respond if they occur. Additionally, funding requested in the FY 2012 budget will assist in meeting Coast Guard Authorization Act of 2010 requirements regarding dockside examinations by adding examiners to improve fishing vessel safety.
Support Military Families
The Administration is committed to improving the quality of life for military members and their
families. The health and welfare of families is the heart of operational readiness. The FY 2012
budget includes $29.3 million to address critical housing shortfalls and improve access to affordable, quality childcare. These initiatives will ensure Coast Guard members are Semper
Paratus for all hazards and all threats.
CONCLUSION
The demands on the Coast Guard remain high. As we have for over 220 years, we remain ready to meet the Nation's many maritime needs supported by the FY 2012 request. We will always fulfill our duties and obligations to the American people, true to "Semper Paratus, Always Ready." I request your full support for the President's FY 2012 request. Again, thank you for the opportunity to testify before you today. I am pleased to answer your questions.