Royston Earns Solstad Approval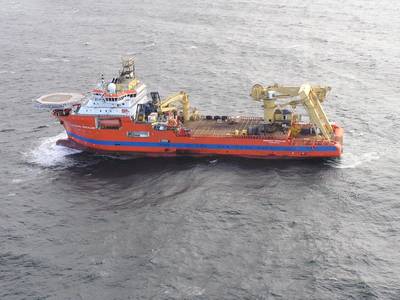 Three weeks of intensive work late last year by engineers from Royston Limited has won praise from the operators of the Normand Installer after it was found to need an urgent engine overhaul before resuming work off West Africa.

The 14,506 gt offshore construction support vessel is notable for having a 350 tonne capacity A-frame, 250 and 50 tonne heavy lift cranes, carousel cable/pipe laying system, 500 tonne anchor handling/towing winch system and DP3 dynamic positioning system. These features are considered to make the Normand Installer a valuable asset for any offshore construction project and reinforced the importance of its being available for work off West Africa. The ship was in Hartlepool to load cables that it was scheduled to lay on the Asgard Field offshore Angola. However, water leaks from the exhaust seat of a cylinder head on one of the ship's four engines led ship's staff and engineers to immediately identify a need to inspect and pressure-test other cylinders heads.

Working in cooperation with a service engineer, it was later concluded that their condition meant that each of the 48 cylinder heads on all of the ship's engines needed to be overhauled before resuming work off Angola. This was seen as essential if the risk of costly problems and contractual delays were to be avoided when operating offshore.

An engineering team was quickly assembled by Royston who, working in cooperation with the on-board service engineer, devised a work plan that would enable as many cylinder heads as possible to be removed and serviced while the ship was docked in Hartlepool. With 24-hour working initiated at Royston's workshop in Newcastle-upon-Tyne, the company serviced and overhauled all of the cylinder heads for two of the ship's main engines. The result was that 12-days after the problem had been identified, a total of 32 cylinder heads had been removed, cleaned, machined and re-installed so that the engines were returned to full operational condition.

With the Normand Installer committed to a tight work schedule off Angola, two Royston engineers sailed along with the service engineer to Las Palmas where they were able to resume the overhaul of the cylinder heads on the remaining engines. This was achieved in a workshop created on-board with the use of equipment supplied by Royston. It was thereby possible to machine the cylinder head valves and valve seats and to use a cylinder head cleaning tank and pressure testing equipment while at sea.

After a four day voyage the ship arrived in Las Palmas where the team on board was joined by three more Royston engineers who enabled the introduction of a 24-hour shift pattern. This was maintained throughout the remainder of the voyage and ensured that every cylinder head on the ship's four engines had been removed, serviced and replaced before it anchored off Abijan, Cote d'Ivoire.

Peter Murphy, technical superintendent for the Normand Installer, subsequently praised the support he had received from Royston and issued a formal recommendation to his fellow Solstad superintendents for the company's employment on other vessels in the Solstad fleet.