Arctic OSV Named at Arctech Yard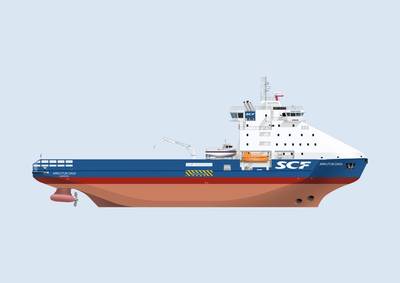 Arctic offshore vessel NB 507 has been named after Russian Navigator Aleksey Chirikov at Arctech Helsinki Shipyard.
The vessel will be delivered to the largest Russian shipping company Sovcomflot shortly and will continue its path straight to Sakhalin area in Far East Russia, where it will supply the Arkutun-Dagi oil and gas field.
Arctech has built two arctic offshore supply vessels for Russian company Sovcomflot, which specialises in hydrocarbon transportation from Arctic and subarctic regions with challenging icy conditions. The first vessel of the series, NB 506 Vitus Bering was delivered to the client in December 2012.
Both vessels for Sovcomflot are similar, measuring 99.9 m in length and 21.7 m in breadth. Their four engines have the total power of 18,000 kW and a propulsion power of 13,000 kW. As multipurpose vessels, these vessels are capable of carrying various type of cargo and they are equipped for oil pollution clean-up, fire fighting, and rescue operations.

The naming ceremony of NB 507 Aleksey Chirikov was held according to old traditions at Helsinki Shipyard, attended by the President of the Republic of Finland Sauli Niinistö, the Ambassador of Russian Federation Alexander Rumyantsev, Ambassador of the Rebuplic of Korea Dongsun Park and the top management of Sovcomflot, Arctech and its owners STX Finland and United Shipbuilding Corporation. The naming was carried out by the Godmother of the vessel Elena Korniychuk, Chief Accountant of Sovcomflot Arctic.
"Vitus Bering and Aleksey Chirikov are the result of excellent co-operation between Arctech and Sovcomlot. These state-of-the-art multifunctional icebreaking supply vessels can be utilized in many arctic areas in the future and I see a global need for such Arctic vessels", says the Managing Director of Arctech Helsinki Shipyard, Esko Mustamäki.