Arctic 1,000-mile Rowing Boat Trip Ends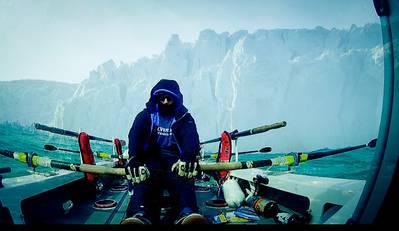 The 4-man American team 'Arctic Row' complete their epic voyage spanning Beaufort and Chucki Seas from Inuvik, Canada to Point Hope, Alaska.

The team's blog/diary records that:

The team completed their journey at 1:46pm local time on Sunday, August 26th, 2012, having rowed more than 1,000 miles from Inuvik, Canada to Point Hope, AK over a period of 41 days. This journey sets a number of ocean rowing records (being verified) including:
Longest non-stop and unsupported row in Arctic history, measured by duration and distance 

First Non-icerated boat past Barrow in 2012
-First non-stop and unsupported international row over 1000 miles in Arctic waters.

First row from Inuvik to Point Hope
-Pioneered a new route for modern ocean rowing spanning the Beaufort and Chucki Sea between Inuvik, CA and Point Hope, AK

First modern four man row in Arctic Ocean history

First human powered crossing of both Beaufort and Chucki Sea, non-stop and unsupported

First row covering all of Alaska's North Slope, non-stop and unsupported

First ocean row in the arctic to combine human power exploration and marine science.