Maersk, Hamburg Süd Improves Asia-Europe Services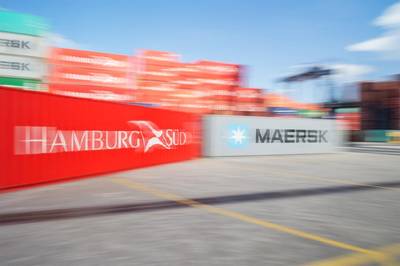 While Maersk Line relaunched Asia-Europe Network to increase schedule reliability, Hamburg Süd upgraded schedule reliability in Asia – Europe/Mediterranean network.
Maersk Line announced changes to its services connecting Asia and Europe to focus on improving the reliability of the world's most comprehensive Asia-Europe network. Enhancements address customers' needs for stable and efficient services and allow for competitive coverage of ports and main markets in both Asia and Europe.
"We are pleased to provide our customers with this revised network, which will offer them a higher level of cargo arrival reliability", comments Johan Sigsgaard, Maersk Line's Head of Europe Trade.
Port congestions and weather conditions have, among other factors, traditionally impacted reliability on Asia-
Europe services
. Changes introduced by Maersk Line will address these challenges by significantly improving buffers in schedules, making it easier to accommodate potential disruptions and thus minimising the impact on service delivery.
"Forced port omissions disrupt cargo flows and impact our customers' supply chains. This network is designed to reduce the necessity to omit ports", adds Johan Sigsgaard.
As part of the new network, reliability will be enhanced by reducing the amount of duplicate port calls and allocating more buffer time around hub ports. Overall on North European and Mediterranean strings, there will be a reduction of 17 port calls, with an additional vessel added to the network.
Since February 2017, Hamburg Süd, through its partnership with 2M, has been able to offer its customers access to the world's most comprehensive Asia – Europe/Mediterranean network. As part of a regular network review, and in an effort to enhance schedule reliability, the decision has been made to rearrange this network in the second half of the second quarter in 2018.
Increased buffer times and eliminated duplicate port calls throughout the network allows schedules to better absorb delays and therefore reduces the need to omit ports. At the same time, overall market-leading coverage and transit times have been maintained.
"As a member of the 2M setup, we are pleased to announce that the revised service network soon to be implemented is putting more focus on reliability and stability. As schedule reliability is an essential component for supply chains, we are sure that our customers will benefit from the new and improved network,"
explains Frank Smet
, CCO of Hamburg Süd.
Westbound sailings with new string configurations will commence from Asia to Europe/Mediterranean in early May.