Marine Machinery Association to Hold 28th Annual Meeting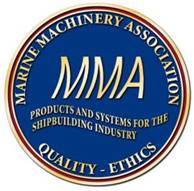 Marine Machinery Association to hold 28th Annual Meeting on September 18th and 19th, 2012.
There Will Be A Reception for Speakers and MMA Members From 6:00 p.m. to 7:30 p.m. on Monday, September 17th, 2012. Attendees at the Meeting Must Be U.S. Citizens or Permanent Residents And Employees of Companies Performing Contracts for the U.S. Navy

The meeting will be held at Holiday Inn By the Bay, 88Spring Street Portland, Maine 04101 1-800-345-5050 or 207-775-2311.