Weird & Wonderful Cruise Line Attractions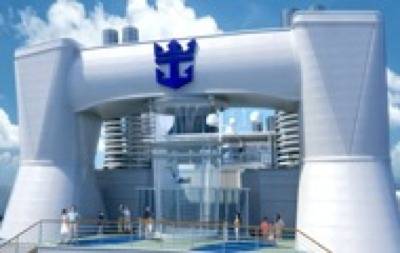 New cruise ships & a doubling in the number of passengers in the past decade has meant serious competition with ships trying to offer adventures & amenities that will set them apart: amongst them, MarketWatch WSJ mentions:
Shore excursions: At Aqua Expeditions, a small luxury line that cruises the Amazon, the effort to offer something different sometimes takes the form of a pickup soccer game with the locals in whatever Amazon River town the ship has docked.
A virtual porthole: Disney Cruise Line has come up with a solution to the problem of the windowless cabin: on its Dream and Fantasy ships, inside cabins have a "magical" porthole — that is, a virtual window that is actually a video screen carrying live images of the view at sea or in port.
Skydiving at sea: RCI's new Quantum of the Seas is to offer a skydiving experience at sea, essentially a 23-foot high indoor wind tunnel with powerful fans that allow people to hover several feet in the air as though they were in free fall.
Source: MarketWatch WSJ