New Wärtsilä Propeller Speeds Up Australian FPSO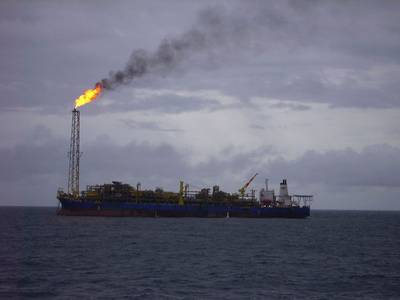 Wärtsilä say that the technical design and installation of a new fixed pitch propeller (FPP) for the floating production storage and offloading vessel (FPSO) Ngujima-Yin has been successfully completed.

The FPSO is operated by Woodside Energy Ltd, an independent Australian oil and gas company and operates in the Vincent offshore oil field in north-western Australia.
In a project fast-tracked by Wärtsilä, the most important benefit of the new propeller is that it will increase the speed of the 332 metre Ngujima-Yin FPSO, which was previously converted from a double hulled tanker for operation as an FPSO in the Vincent field.
Wärtsilä explain that typically, such conversions, which include structural alterations and the installation of new production equipment, also alter the specific parameters and operational characteristics of a vessel. For this reason, the propeller design needs to be optimised specifically for each vessel.

The design work carried out by Wärtsilä involved a pre-study of the existing propeller characteristics, 3D CAD modelling of the ship's hull, a computational fluid dynamics analysis of the hull, and the design and manufacture of a 10,000 mm diameter FPP weighing approximately 66 tons. The new solution was successfully installed in a Singapore shipyard.

"This is a prime example of Wärtsilä working closely with its customer to produce a solution that meets the operational needs of a specialised vessel. It was a challenging project that involved a technical design and a short delivery time, especially considering the size and weight of the propeller," says John Sydney, Managing Director, Wärtsilä Australia.
www.wartsila.com