Metso Supplying Automation System for Fisheries Research Vessel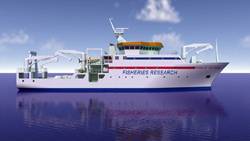 Metso has received an order for a Metso DNA automation system to a fisheries research vessel. The Fisheries Research Vessel is contracted at STX Finland Oy, Rauma shipyard, by the Namibian Ministry of Fisheries and Marine Resources.

The vessel is 65m long with a beam of 14m. It is designed with special care about laboratory equipment, propulsion and power generating systems. High serviceability and low maintenance costs has got special attention. The vessel's task will include monitoring of fish stock, as well as sorting, processing, freezing and storage of fish. As a multipurpose vessel it will also be used for collecting samples for seabed research and analysis. Other tasks are metrological research and control of fishing. Vessel delivery to owner is June 2012.

Metso DNA automation systems takes care of all machinery alarm and monitoring, controller loops, tank level monitoring, control of pumps and valves and the power management system The power management system will include a mode change program, with automatic configuration of machinery and switchboards, for fast and secure transition between sailing modes. Operator stations are multifunctional and process controllers redundant with main and reserve units in different locations, securing maximum system availability.

Ship automation since the early 80s

Metso established a marine team in Norway early 2010 that with Metso's global engineering and service network will further develop and execute Metso's strategic focus and services in the ship automation market.

Metso has engineering resources with broad automation competence for machinery, power plant and air-conditioning systems on board ships. Metso's marine automation solutions fit all types of ships and complexities, from crude oil carriers to passenger ferries, cruise liners, offshore supply and oil & gas processing vessels.

Ship automation systems based on Metso technology have a long history. Ship automation systems started in the early 80's with Damatic Classic and has developed through to today's Metso DNA. Majority of installations are for advanced ship types, such as cruise liners. In particular, redundancy features and high product quality that guarantee undisturbed and safe ship operations have contributed to the success story of Metso's automation systems.

The first delivery of an automation system based on Metso technology to a ship was in 1983 and up until today several hundred ships have been equipped with Metso's automation system.