British Fleet Auxiliary for Falmouth Refit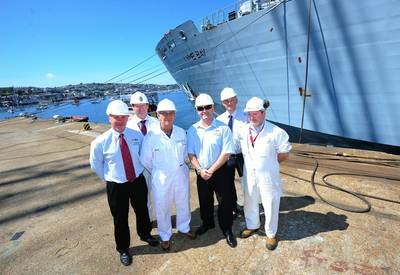 'RFA Lyme Bay', the fifth ship to have a multi-million pound refit as part of the Cluster contract at A&P Falmouth, arrrives in Falmouth
Lyme Bay returned to Falmouth after three years in the Persian Gulf supporting coalition naval operations and as 'mothership' to the UK Mine Countermeasure Fleet.
The major refits, carried out every five years, have been completed on the RFA Argus, RFA Mounts Bay, RFA Largs Bay and RFA Cardigan Bay between 2009 and earlier this year.
The grey ships, which have become a familiar part of the Falmouth skyline over the past four years, are in the docks as part of the Cluster Support Programme – a contract between A&P Group and the MoD to provide worldwide repair and maintenance support to the ships.
The five-month programme of work to the RFA Lyme Bay will include a new exhaust; ballast water treatment installation; an overhaul of the main engines and propulsion systems; survey and recertification work; a full paint and antifouling programme; general upkeep and maintenance.
Kevin Murray, Cluster Support Team Leader for the MoD, said: "Providing maintenance to the ships while they are on long term deployment demonstrates the flexibility and advantages of the MoD working jointly with industry. It's cost-effective because it minimises down time, making sure the vessel is available for operational requirements."
Benefits of the Cluster Programme include fast communication and decision-making; estimating and cost control; in-house design capability; programme planning and project management; a global key supplier network and preferred supplier arrangements.