Eleven Models Now Available from JCB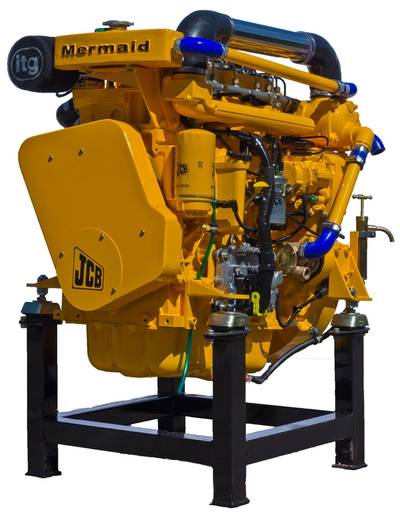 Mermaid Marine has increased its range of JCB Dieselmax marine diesel engines. The company, based in Poole, now has eleven models available in the JCB TCAE range ranging from 55kW / 74hp to 120kW / 160hp suitable for a large variety of applications, with the smaller engines particularly suitable for the grant funded repower market.

All engines comply with a minimum of Stage 2 emissions with the majority complying with Stage 3B – Tier 4 interim.

"The JCB Dieselmax engine range has been designed to give operators great performance and by expanding the range we are able to offer engines for an even wider choice of uses," said Julian Osborne, Mermaid Marine sales executive. "While relatively young in the diesel engine market, the JCB Dieselmax is fast establishing itself as a significant player."

The engines incorporate the latest technological advances to provide high torque at low engine speeds with favourable fuel consumption with the design taking future emission requirements into account.

Emissions are addressed at source without particle filter or after-treatment of the exhaust gases saving on weight and size.

Mermaid Marine is the sole UK JCB mariniser and distributes its engines through its network of suppliers across the UK and around the world. All the parts are sourced from the UK.

The current JCB engine range now consists of: -

Stage 2 Emissions
55kW / 74bhp Naturally Aspirated Mechanical Governing
* 63kW / 85hp Naturally Aspirated Mechanical Governing
* 74kW / 100hp Turbocharged Mechanical Governing
* 93kW / 125hp Turbo Intercooled Mechanical Governing

Stage 3A Emissions
* 63kW / 85hp Turbocharged Mechanical Governing
* 68kW / 91hp Turbocharged Mechanical Governing
* 74kW / 100hp Turbo Intercooled Mechanical Governing
* 85kW / 114hp Turbo Intercooled Mechanical Governing
* 97kW / 130hp Turbo Intercooled Electronic Governing
* 108kW / 145hp Turbo Intercooled Electronic Governing
* 120kW / 160hp Turbo Intercooled Electronic Governing