Ballast Piping Renewal using Carbon Fibers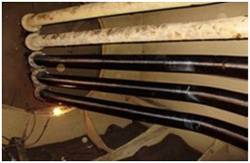 The renewal of the water ballast piping in a total quantity of more than 500 meters on board a bulk carrier of a major Croatian ship owner was conducted by as2con-alveus ltd. The ballast piping was repaired using the composite material overlay method COMPA. COMPA features lamination of a damaged pipe surface using carbon fiber-reinforced plastics. The repair plan and materials presented in the technical documentation were approved by the Croatian Register of Shipping and accepted by Bureau Veritas.

Repair was performed during a drydocking at Viktor Lenac, Croatia from April 7-19, 2010. A total of 15 people worked on the repair project. Piping ranging from DN100 to DN350 pipe sizes, in topside and double bottom ballast tanks of four cargo holds, were repaired.

Prior to the renewal, an examination was performed to identify critical locations of the ballast piping. Then a local subcontractor performed the piping surface preparation to remove rust and remaining paint.

The piping renewal began immediately after the surfaces preparation. Carbon fibers were soaked in epoxy resin and applied onto a damaged surface. The resin hardens over time and permanently bonds to the surface while impregnating fibers that reinstate the strength of the damaged part. This procedure effectively creates a solid new layer of material that provides full water-tightness. The use of high-end materials such as carbon fibers and epoxy helped the workers complete the project in a short period of time. During the application period, the repair team met adverse weather conditions (rain, low temperature and high humidity), which were nevertheless successfully managed. Now, a year after the repairs were completed, the client's superintendant reports that ballast piping is operating regularly.