Battleship on Voyage to New Home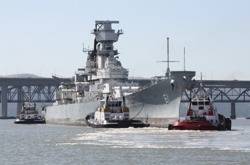 Transferred to ownership of the Pacific Battleship Center, historic battleshilp USS Iowa sails for preservation in new homeport
Following years of aging in the San Francisco Bay area's ghost fleet, the 887-foot long ship that once carried President Franklin Roosevelt to a World War II summit to meet with Churchill, Stalin and Chiang Kai Shek is coming to life once again as it is being prepared for what is most likely its final voyage.
Firing its 16-inch guns in the Arabian Sea, the battleship Iowa shuddered. As the sky turned orange, a blast of heat from the massive guns washed over the ship. This was the Iowa of the late 1980s, at the end of its active duty as it escorted reflagged Kuwaiti oil tankers from the Persian Gulf through the Strait of Hormuz during the Iran-Iraq war.
The 58,000-ton battlewagon is undergoing restoration for towing May 20 through the Golden Gate, then several hundred miles south to the Port of Los Angeles in San Pedro, where she is to be transformed into an interactive naval museum.
On May 1, ownership of the Iowa was officially transferred from the Navy to the Pacific Battleship Center, the nonprofit organization that has been restoring the boat for its new mission.