Bay Ship to Build First Hydrogen Fuel Cell Passenger Vessel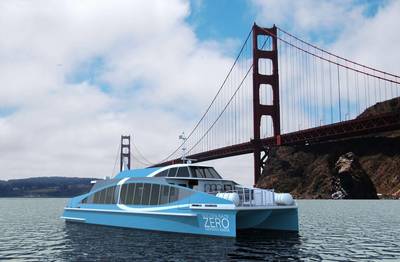 California based shipbuilder Bay Ship and Yacht Co. said it has won a contract to build the first hydrogen fuel cell passenger vessel in the U.S. for Golden Gate Zero Emission Marine (GGZEM), a Bay Area company on a mission to eliminate maritime pollution.
The zero-emission vessel is expected to be delivered and in service by September 2019 as a first of its kind in the U.S. The 70-foot, all-aluminum ferry will operate on the San Francisco Bay, and will be managed by the Red and White Fleet.
Golden Gate Zero Emission Marine awarded a $3 million grant by the California Air Resources Board (CARB) to build the vessel.
The innovative ferry will sail under the name Water-Go-Round, a reference to the cyclical nature of the technology on board: hydrogen can be created from water and after being used in a fuel cell, becomes water again. Water is the only biproduct of the power system.
The vessel will be powered by dual 300 kW electric motors using independent electric drivetrains from BAE Systems. Power will be generated by 360 kW of Hydrogenics proton exchange membrane fuel cells and Li-ion battery packs. Hydrogen tanks from Hexagon Composites, with valves and hardware from OMB-Saleri, will be installed on the upper deck, and contain enough hydrogen to go up to two days between refueling. GGZEM's "zero infrastructure" flexible fueling arrangement will allow the Water-Go-Round to be fueled anywhere with truck access.