Mercy Ships' "Walking Bloodbank"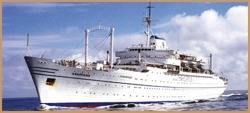 Charitable Hospital Ship 'Africa Mercy' family members commemorate World Blood Donor Day, join the 'walking blood bank'
The humanitarian organization Mercy Ships is taking the day to celebrate the heroic role that numerous blood donors play onboard its hospital ship, the Africa Mercy, which is currently docked in the West African port city of Lomé, Togo.
"The blood bank here is a community with a common cause," says Medical Lab Scientist Ben Digmann of Rochester, MN, "If we don't have enough blood donors to keep surgeries going, all it takes is one announcement over the intercom, and the lab becomes flooded with willing donors."
Mercy Ships provides free surgical, medical and dental care to developing West African nations, along with health and medical training and infrastructure development. Its flagship, the Africa Mercy, is equipped with a state-of-the-art hospital featuring six operating theaters, recovery wards with 78 beds, a CT scanner, an X-ray machine and a laboratory.
Since the beginning of the year, more than 200 members of the ship's all-volunteer crew have signed up for the added commitment to donate their blood to Mercy Ships patients. 

The ship is staffed by a crew of more than 400 volunteers from over 35 nations, who pay for their own room and board while serving on the Africa Mercy. 
Due to space limitations, the ship's hospital does not maintain a traditional blood bank. Instead, it relies on a "walking blood bank" of pre-screened volunteer donors who are prepared to donate precisely when needed.
Digmann has donated blood during his current service onboard the Africa Mercy and during his earlier service with Mercy Ships in 2010. Ben is a Laboratory Technologist with the Mayo Clinic Department of Laboratory Medicine and Pathology in Rochester, MN. His blood type, B+, is in high demand onboard the ship, since it is a common blood type in Africa.