Blount Delivers Vessels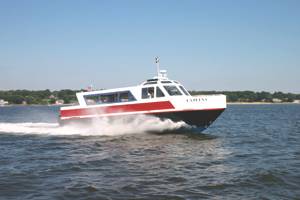 The 165 x 45-ft. 300 ST Class cargo/passenger ferry, M/V Cayo Largo built by Blount Boats, Inc. for the Puerto Rico and Municipal Islands Maritime Authority was accepted for delivery to Fajardo, on July 23. The Cayo Largo will also deliver the 45x17-ft. M/V La Plena, also built by Blount Boats. The M/V La Plena is being shipped as cargo on the M/V Cayo Largo, which will be arriving in on Sunday, August 3, 2008.
M/V Cayo Largo is powered by four Detroit Diesel 12V4000 M60 engines totaling 7,080 hp and will carry 300 LT cargo and will accommodate up to 300 passengers for transportation to the Puerto Rican islands of Fajardo-Vieques-Culebra. The new vessel was built in accordance with U.S. Coast Guard, Subchapter "K" regulations, with an Ocean Certificate for cargo ferry service and hull structural requirements of the American Bureau of Shipping. The M/V Cayo Largo is one of the largest cargo ferries to have been built at the Blount shipyard. It marks the 322nd vessel and the 22nd vessel built by the shipyard for the Puerto Rico Maritime Transportation Authority.
M/V La Plena is powered by two Mercury Verado 300 Series outboard engines totaling 600 hp and will carry 49 passengers for transportation to Hato Rey, Catano and Old San Juan terminals. The M/V LA Plena is the first of four water taxis to be delivered to for the public transit system.