IYRS Boatbuilding Grads Row Their Own Boats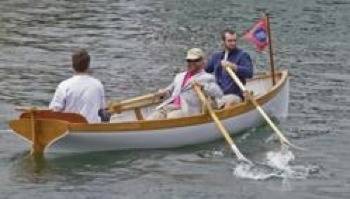 Students from the IYRS Boatbuilding & Restoration Program will launch their careers, along with the boats they restored this past year as they graduate June 1, 2013.
International sports figure and North Sails President Ken Read will help mark the start of students' career paths as featured graduation speaker at this marine trades and technology school in Rhode Island. Read is a fitting person to clue IYRS graduates into the opportunities that lie ahead for those with craftsmanship skills and a passion for working with their hands around boats. Through sailing, Read built a career that, as he says, "I would not trade with anybody."
Graduates of the IYRS Composites Technology and Marine Systems programs, who matriculated from these six-month programs this past February, will also be honored on June 1. Eighty-six percent of the graduates from these programs are now working in the fields they trained for, or have continued on to other IYRS programs to round out their training.

Composites Technology grads are working with companies located on the U.S. East Coast, Hawaii and the U.K. that are using composite materials to build a range of structures: from superyachts to custom surfboards, to architectural designs. Marine Systems grads are working onboard boats or at marine businesses located along the U.S. East Coast.

On Graduation Day, Boatbuilding & Restoration students will launch a fleet of Beetle Cats, a small 12-foot catboat whose design dates to 1921; an elegant 25-foot twin-cockpit motor launch that has been restored to yacht-quality standards with teak decks and a double-planked mahogany over white cedar hull; a Herreshoff Fish-Class sloop, a 20-foot design created in 1916 when Nathanael Herreshoff expanded the lines from his well-known 12 ½ sailboats; and an 11-foot Class B One-Design frostbite dinghy, a design that was originally produced at the Herreshoff Manufacturing Company in the 1930s.
The public is welcome to join Launch Day festivities and see the fine craftsmanship produced by students. Graduation ceremonies begin at the IYRS Newport campus (449 Thames Street) at 10:00 am inside Restoration Hall. After the inside portion of the ceremony, the crowd will migrate to the school docks to watch the launching of the fleet.