Bollinger Delivers USCG's 16th FRC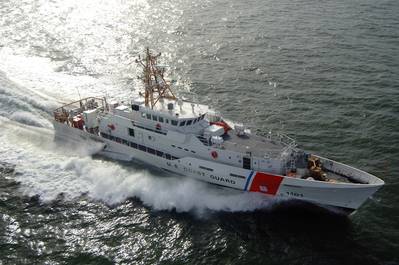 Bollinger Shipyards has delivered the newly built Fast Response Cutter (FRC) Winslow Griesser for the U.S. Coast Guard (USCG) seventh district in Puerto Rico.
The USCG took delivery on December 23, 2015 in Key West, Fla., and is scheduled to commission the vessel in Puerto Rico during March, 2016.
The 154-foot patrol craft Winslow Griesser is the 16th vessel in the USCG's Sentinel-class FRC program. To build the FRC, Bollinger used an in-service parent craft design based on the Damen Stan Patrol Boat 4708. It has a flank speed of 28 knots, state of the art command, control, communications and computer technology and a stern launch system for the vessel's 26 foot cutter boat, the builder said.
Each FRC is named for an enlisted USCG hero who distinguished him- or herself in the line of duty. This vessel is named after Coast Guard gero Winslow W. Griesser, Keeper of the Buffalo Life-Saving Station in New York, who was awarded the Gold Lifesaving Medal on February 23, 1901 for his heroic actions during a dramatic rescue on November 21, 1900.