Boston Whaler Fights Ohio River Crime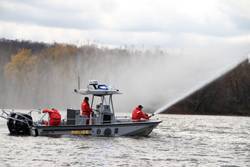 Residents and businesses along the Ohio River in Beaver County, Penn., will soon see a new Boston Whaler 25-foot Guardian on patrol. More than $3.4 billion worth of goods is transported through the county annually via the river.
A recent risk assessment exercise revealed that law enforcement was not adequately equipped to handle a crisis on the waterway. Crime-related or emergency incidents historically have been handled by non-local response teams, which significantly increased response times. As a result of the study, a new local task force has been created to provide seamless law enforcement and emergency coverage along the river from the Ohio line to the Montgomery Lock and Dam. The Beaver Valley River Response Task Force received a grant of $140,000 from FEMA and Ohio's State Department of Economic and Community Development to purchase a Boston Whaler 25-foot Guardian patrol boat from Brunswick Commercial and Government Products.

Detective James DeGori, who leads the task force, explained why he chose the Whaler for the task. "We wanted a durable boat because we plan to patrol around-the-clock during the summertime. We've had our eyes on the Boston Whaler for a while. They're unsinkable, and they last practically forever." The 25-foot Guardian is equipped for law enforcement, fire, and rescue operations. The boat is powered by dual 150 horsepower Mercury Marine Verado outboard engines, which are protected by an aluminum crash rail. A dive door on the port side of the craft facilitates rescue efforts, and heavy-duty rubbing strakes protect the hull from damage while coming alongside docks or other boats. An LED blue strobe light with siren is mounted on the T-top. A leaning post with a locking gun cabinet ensures firearms are secured safely. In the event of a fire, a small fire pump is mounted in the cockpit, with a monitor located at the bow.

The task force will have daytime and nighttime patrols to provide law enforcement coverage on the water for the local chemical plants, oil and chemical storage tanks, and to assist with general waterway improvements and awareness. They will also patrol during large events, such as the Beaver River Regatta and annual Fourth of July celebrations.