Brazil's New Ocean Patrol Boat Heads for Home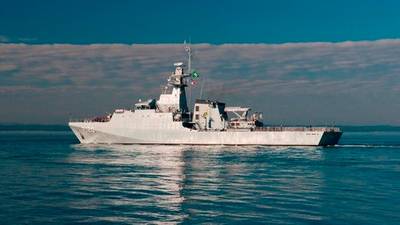 First of three BAE Systems built patrol boats for the Brazilian Navy, departs the UK for Rio de Janeiro.
Amazonas has completed a rigorous sea-training program under the eye of the Flag Officer Sea Training with the Royal Navy off the South coast of England, and is homeward bound.
Supported by a team from BAE Systems, the crew's extensive training programme included navigation and duty watch training, as well as development and familiarisation of operational procedures for safety and security in areas including material assessment of the ship, emergency exercises and machinery breakdown drills.
The crew also completed boarding operations and anti-piracy exercises and tactics to ensure Amazonas returns to Brazil safely and fully prepared for the demanding operational role ahead.

Nigel Stewart, Commercial Director of BAE Systems Maritime, said: "Saying farewell to the first ship in the Amazonas class is a significant stage in our ongoing relationship with the Brazilian Navy and is a source of great pride to those who worked on her. We look forward to continuing our work with the Brazilian Navy to deliver the next two Ocean Patrol Vessels Apa and Araguari over the coming months."