Goltens Ground Breaking at DMC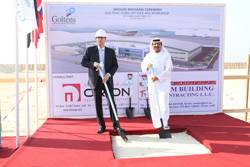 Dubai Maritime City (DMC), the world's first purpose-built maritime centre, announced that ship repair and maintenance company Goltens carried out a ground breaking ceremony of its new office and workshop facility in DMC.

The company has launched its business in the city, and laid the foundation stone for the construction of facilities dedicated to building and repairing ships. Goltens, which has a strong presence in the Middle East and across 21 locations around the globe, are under a long term Musataha ground development agreement with DMC for two plots within the DMC. The plots measuring about 23,000 square metres are leased to Goltens for a period of 25 years.
"When we announced the opening of the maritime zone of the city in March of this year we were determined to develop Dubai Maritime City as part of the Strategic Plan of 2014. Today I want to emphasize that the vast collection of amenities and facilities provided by DMC to encourage business by sea is an opportunity for real growth and development of this vital sector. Infrastructure development is progressing rapidly and we see heightened interest from companies all over the world in this unique facility," said Khamis Juma Buamim, Chairman of Drydocks World.

"Goltens is recognized for its reputation as a reliable, dependable and responsive provider of a wide variety of ship repair and mechanical services. The Middle East marine repair market is expected to grow significantly medium to long term and Goltens Dubai will for the foreseeable future be a large hub for the Middle East and we especially see a future growth within our specialist core disciplines Diesel, In Situ and Mechanical. Our commitment to our customers is not just to meet their expectation, but rather to exceed them by utilizing our global resources to continually deliver the highest quality standards to the international shipping community anywhere in the world", said Paul Friedberg, President – Goltens Worldwide Services.
DMC has rapidly evolved since the launch of Phase 1 earlier this year when 110units of different sizes have been constructed and declared operationally fit. More offices, shops, showrooms, yacht manufacturing workshops, and warehouse and workshop units will be released on completion of Phase II. The Business District of DMC was envisioned to develop high-end offices, residential properties, hotels and leisure facilities, which are under development. The office component will cover over 8,800,000 gross sq.m., which would be used to develop high and medium rise towers, while residential properties will be built over 957,000 gross sq.m.. The Maritime Center Zone, will be built on 546,000 gross sq.m. of land and will be centre for marine and maritime related activities and retail facilities will cover an area of 170,000 gross sq.m.
The new Goltens Dubai facility will be twice the size compared to what the company has in Dubai today, with a footprint of 10000 sqm and an office block of 2000sqm. The workshop is a state of the art design with all thinkable modern equipment to serve the marine and industrial markets here in the Middle East, very similar to the other workshops we have built over the last 4 years in China, Rotterdam, Vietnam, Mumbai and Jeddah.