P&O's Newest Ferry the Spirit of Britain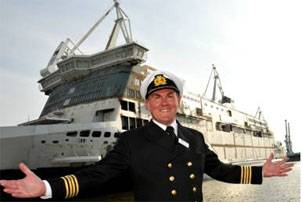 P&O's new ferry, the 49,000 GRT Spirit of Britain just recently floated out onto the water at STX Europe shipyard in Rauma, Finland. She will after delivery serve the Dover-Calais route from January 2011. Construction is also started on her sister; the Spirit of France, due to operate from September 2011.

When the vessel is completed, the Spirit of Britain will be the biggest ferry operating on the English Channel, at a capacity of 3746 lane meters (lm) for trailers, cars and other cargo and space for approximately 180 freight trucks, 195 passenger cars and 1.750 passengers.

The two ships not only represent a major investment of more than $455.5m by P&O Ferries and are designed for a life span of 25 years, they are further designed as the world firsts vessels ever to comply with new amended SOLAS 2010; Safe Return to Port (SRtP) regulations.