BRIX Marine Launches Whale Watching Vessel for Allen Marine in Alaska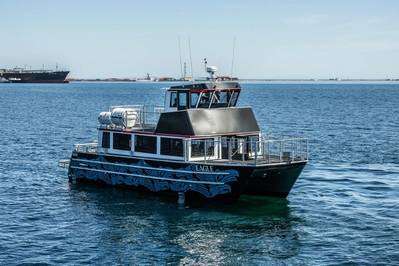 Pacific Northwest aluminum boatbuilder BRIX Marine announced it has built a new whale watching vessel for Allen Marine Whale Watching Tours in Sitka, Alaska.
The custom-built vessel Eagle is 48 feet long with an 18-foot beam, and its lightship weight is approximately 31,000 pounds.
Powered by quad Suzuki 350-horsepower engines, the vessel boasts an array of features tailored to elevate the whale watching journey, BRIX Marine said.
The vessel is constructed with 5086 alloy aluminum hull skins, and its extended T-transom with a webbed nylon gate ensures safe and comfortable access to the open seas. The spacious deck, framed on 26-inch centers, provides unobstructed views and ample space for guests to move around.
According to the builder, Eagle's interior is designed for both comfort and functionality, featuring Freedman Glitz seating for up to 49 passengers with armrests and convenient PFD storage beneath. The main cabin encompasses a full-width walk-through design.
The newbuild features watertight bulkheads, watertight hinged hull access hatches, and an extensive bilge system equipped with float switches and high-water alarms. The vessel's navigational and communication systems include Garmin GPSMAP 8612xsv MFD/Sonar, AIS Class B transponder, and a robust audio setup.