Texas LNG's Brownsville Project Progressing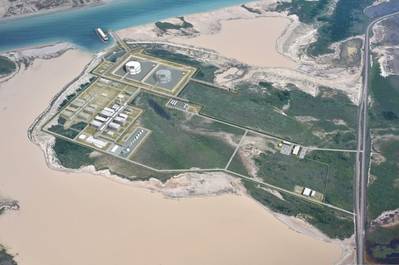 Texas LNG appoints BNP Paribas as financial adviser for Brownsville LNG project, progresses FERC pre-filing process and completes over 60 percent of front end engineering and Design for facility.
Texas LNG Brownsville LLC announced that BNP Paribas has been appointed as financial adviser for the Brownsville project. BNP Paribas will assist Texas LNG in the raising of equity and debt financing for the total capital requirements of the Project, including the execution of definitive transaction documents for achieving final investment decision (FID) and project construction.
BNP Paribas is a project
finance adviser
and debt arranger with a global network in more than 75 countries. BNP Paribas has been involved in the financing of many LNG projects across the globe and has relationships with key export credit agencies and investors in the LNG sector. BNP Paribas has a comprehensive presence in the United States and its New York and Houston based teams will maintain primary management responsibility for this engagement.
Vivek Chandra, CEO of Texas LNG, noted, "The commitment of BNP Paribas to the Texas LNG project is a testament to the steady progress the project team and its partners have achieved since project inception in 2013.
BNP Paribas joins
Third Point LLC, Samsung Engineering & Construction, Air Products, UOP, Braemar Engineering, NRG, PSI, K&L Gates, GreenbergTraurig, Royston Rayzor, and other leading partners in supporting our exciting project. BNP Paribas' global footprint will help us develop offtake and investment relationships and ensure that our engineering and commercial agreements support project financing efforts, ensuring that the project schedule remains on track for first deliveries in 2020."
Texas LNG is planning to build the Brownsville Project in two phases, each with LNG production of 2 million tonnes per annum (MTA). Pending FERC's final approval to construct the project, Phase 1 is expected to commence production in 2020. FERC regulates the siting, construction, operation and maintenance of the physical LNG terminal and related infrastructure.
On July 23, 2015, Texas LNG received a notice of intent to prepare an environmental impact statement (EIS) from FERC. The EIS, which will be prepared by FERC staff, will examine the potential environmental impacts of the Texas LNG project. The FERC process included a Public Scoping Meeting which was held on August 11, 2015 in Port Isabel, Texas.
Langtry Meyer, COO of Texas LNG, said, "The scoping meeting is a critical component of the regulatory review process. We are pleased to have participated and I thank the
Federal Energy Regulatory Commission
for organizing the event and inviting the public to learn about LNG and provide Texas LNG with constructive comments that will help us site, construct and operate a safe, reliable facility. Texas LNG appreciates the strong support shown by the community to the project and looks forward to working with all parties to ensure that our project is a valuable participant in the vibrant Rio Grande Valley community, and that the economic and environmental benefits of LNG are well understood."
Over the past year, statements of support for the project have been received from federal, state and local community leaders and organizations, including U.S. Senator John Cornyn, U.S. Congressman Filemon Vela, Texas State Senator Eddie Lucio, Jr., Brownsville Mayor Tony Martinez, Brownsville Chamber of Commerce, Brownsville Economic Development Council, and Port Isabel – San Benito Navigation District.
As per the FERC pre-filing requirements, Texas LNG has submitted resource reports #1 – General Project Description, #10 – Alternatives, and #4 – Cultural Resources. All remaining resource reports are being prepared and are expected to be submitted over the next few months, the company said.
Over 60 percent of FEED has been completed by Texas LNG's equity and engineering partner, Samsung Engineering, who has deployed a dedicated team of over ninety experienced engineers and project staff at its headquarters, Samsung Global Engineering Center, in Seoul, Korea to the project. As of the end of July 2015, Samsung Engineering has completed eight out of the 12-month front end engineering and design (FEED) study and more than 105,000 cumulative engineering man-hours since mid-2014. Engineering efforts are focused on providing cost efficient, reliable, well proven and safe solutions that will use modular construction and shipyard efficiencies and leverage local South Texas labor and company resources.
Key technology providers are Air Products (C3MR liquefaction process design), UOP (gas pretreatment), Matrix PDM (LNG storage tank), Gexcon (vapor dispersion studies), Moffatt & Nichol (marine construction), PSI (geotechnical studies) and Marin (navigation studies).
Texas LNG said it remains on track to delivering first shipments of LNG in 2020.