BW Fleet Management Repair Deal at ASRY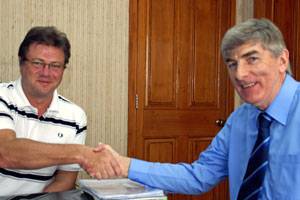 Tanker operator, BW Fleet Management, expanded its Fleet Repair Agreement with ASRY's Bahrain yard. The new repair agreement was signed by Morten Steen Martinsen, managing director of BW Fleet Management and Chris Potter, CEO of ASRY, in April in Bahrain. The Norwegian company, which operates out of both Oslo and Singapore, manages a fleet of more than 90 vessels operated by BW Gas and BW Maritime, and the ASRY repair agreement involves those crude oil tankers, product tankers and LPG carriers that trade to the Arabian Gulf, giving guaranteed dock space and fixed rates. It could see 14 vessels repairing at the Bahrain yard and is the largest fleet repair agreement currently at ASRY.

BW ships have been coming to ASRY since the yard's early days. Bergesen, as the company was then known, has been drydocking in Bahrain since 1980 and signed its first fleet agreement in 1999. The first four vessels to be drydocked and repaired under the new agreement will be the 1985-built Very Large Gas Carrier (VLGC) Berge Racine, the 1991-built VLGC BW Captain; the 285,739 dwt crude oil tanker BW Nile (to be renamed BW Elbrus), and the 2007-built product tanker BW Columbia, 76,604 dwt. All four vessels are due to be repaired between July and October this year.

During the past 16 months ASRY repaired a total of five vessels from BW Fleet Management, all LPG carriers: the 1986-built, BW Ragnhild; the 1984-built, BW Rachel (drydocked twice), the 1983-built, Berge Frost and the 1980-built, Havrim.

Established at the beginning of 2009, at the same time that BW Shipping was renamed BW Maritime as part of an internal reorganization to leverage strengths across the BW Group, BW Fleet Management is responsible for the ship management of vessels owned by BW Gas, BW Maritime and other companies within the BW Group. It combines the technical expertise of the tanker and gas ship management teams in both Oslo and Singapore and provides services within technical management, crewing, newbuildings and special projects.

The tanker assets are managed from BW Fleet Management's Singapore office, while the gas carrier fleet comes under the wing of the Oslo office.