Spain Promotes the Candidacy of Esteban Pacha of IMO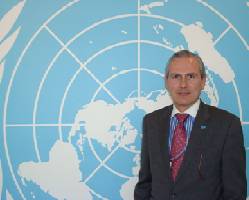 • Is the only candidate with professional maritime training and has an extensive career in the shipping industry and internationally
• Spanish Minister of Development Mr José Blanco highlights that is "the most experienced candidate to take on the challenges of the sector"
• Some of his objectives are the uniform implementation of all IMO conventions worldwide and the promotion of maritime professions

London, 16 May 2011 (Ministry of Development).

In an event organized at the headquarters of the Embassy of Spain in London, Captain Esteban Pacha presented the programme of his candidacy to the Ambassadors, Permanent Representatives and Directors of the Maritime Administrations of most IMO Council Member States. The event was attended by the Spanish Director General of Merchant Marine Ms Isabel Durantez.

The current Secretary-General Efthimios Mitropoulos ends his term at the end of this year and elections will take place during the 106th IMO Council to be held in London from 27th June to 1st July 2011.

International experience
The Ambassador of Spain Mr Carles Casajuana presented Captain Pacha as the only candidate with professional maritime education, and the most experienced candidate to steer IMO into the future and meet the challenges that are presented in the coming years.

Spanish Minister of Development Mr José Blanco has also stressed the professionalism of Esteban Pacha in the introductory text of the nomination, stressing that "he has developed his career carrying out technical and managerial functions, both at sea as ocean-going master and in the exercise of different responsibilities in the maritime sector at national and international level, working closely with IMO and other UN bodies".

"Ultimately", states the Minister, "Spain is extremely confident that he is a competent and proficient candidate to the post of Secretary-General of IMO" and accordingly, kindly request a favourable vote for Esteban Pacha.

Captain Esteban Pacha was born in Barcelona, is a Master-Mariner , holds top academic qualifications and has held various positions in the Spanish Ministry of Development as Harbour Master or Regional Director before being appointed Permanent Representative of Spain to IMO. In that capacity, he also contributed to this Organization's technical cooperation missions and as auditor of the IMO Audit Scheme. He is also Governor of the World Maritime University and since 2007 Pacha is the Director General of the International Mobile Satellite Organization (IMSO). In 2010 he was also appointed Founder Commissioner of the United Nations Broadband Commission for Digital Development, given that satellite communications have a vital role to ensure global connectivity, especially at sea, remote areas and in case of natural disasters. His early vocation to the sea continues to guide his maritime career and life.

Vision
Esteban Pacha presented his candidacy as a vocational progression in his chosen professional career path fuelled by an active and diverse experience in various sectors of maritime activity. In his speech he highlighted his vision to meet those challenges and some concrete proposals for action to improve IMO's management and to promote safe and environmental friendly maritime transport that is fundamental to maintaining the food, energy and goods supply chain indispensable for the development and sustainability of all nations and the global economy. His challenges also include the uniform implementation of all IMO conventions worldwide and the promotion of maritime professions

Capt Pacha stated that "all partners in the maritime sector should be considered as integrated in an all-inclusive global system whose regulation requires a systematic and coordinated management that only IMO can offer at international level", and reiterated his commitment "to preserve IMO´s primacy as the international maritime regulatory body".

Although nominated by Spain, given its position as Head of an intergovernmental organization closely linked to the work of IMO in providing communications services to maritime safety, Esteban Pacha's candidacy should be seen as a bet clearly international, with the vocation to serve all the governments and shipping and professional institutions aiming to promoting greater efficiency of maritime transport that is essential to sustaining the world economy.

Source: www.estebanpacha.com