Carnival Splendor Assisted by Coast Guard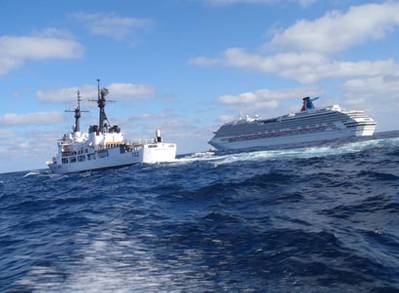 Crewmembers from the Coast Guard Cutter Morgenthau, a 378-foot high endurance cutter homeported in Alameda, Calif., continue to ensure the safety and well-being of the passengers and crew aboard the stranded Carnival Cruise Ship Splendor, Wednesday, Nov. 10, 2010. The cruise ship became disabled after a fire in the engine room, Monday, Nov. 8, 2010. Crews from the Coast Guard cutter have boarded the Splendor, including a health service technician and food service technician, and have found the passengers and crews safe and healthy.
The Wall Street Journal reported that two tugboats were guiding the ship and officials were on board to help distribute and provide medical care. Investigators with the Coast Guard, the National Transportation Safety Board and the Panamanian government, which registered the ship, were reported to have begun looking at what caused the blaze.