'Carnival Triumph': Latest News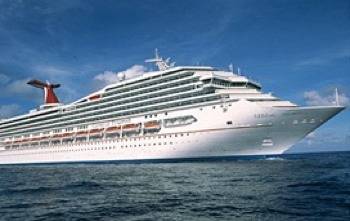 The cruise ship, disabled by an engine room fire, will probably be towed to Mobile, AL.
Carnival Triumph was originally intended for towage to the Mexican port of Progreso, however after drifting through currents in the Gulf of Mexico, she is expected to dock instead in Mobile.
Some power has been restored including the freshwater system, which is back up and operational. Additionally, the sewage system has been restored to the forward section of the ship but is still down in the after part.
Food supplies were transferred from the Carnival Elation during the night of February 10, which departed by mid-night. Carnival Legend is en-route from Tampa and will arrive on the scene near 3 p.m. on the afternoon of the 11th to complete a transfer of food and water. Carnival Legend will also accept a transfer of a patient in need of dialysis for transport to Cozumel.
Carnival state that all current guests on board will be refunded for the cost of the cruise, including gratuities and transportation expenses. Guests scheduled to sail tomorrow have already been contacted by Carnival and can either receive a full refund for their sailing or wait for further information to see if a shortened, partial voyage is possible.

This is the second engine room fire on a Carnival owned ship resulting in a loss of power, the other being the Carnival Splendor in 2010.