'Carnival Triumph' Tow: Latest Update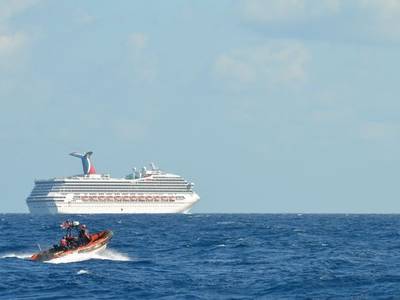 Carnival dispatches a third tugboat, from Port Fourchon, Louisiana, to further assist the disabled cruise ship toward Mobile, ALA.
The company has also announced further compensation of US$500 for the 3,143 passengers aboard the Carnival Triumph in addition to a full refund of the cruise along with transportation expenses and reimbursement of all shipboard purchases during the voyage, with the exception of gift shop, art purchases and casino charges. All passengers will also receive a future cruise credit equal to the amount paid for this voyage.
In related news, the US Coast Guard reports delivery of equipment to the ship in the Gulf of Mexico by helicopter, including a generator and electrical cables from the offshore supply vessel Lana Rose.

The Coast Guard Cutter Vigorous arrived on scene Sunday night and began escorting the Triumph Monday night when the contracted tugs began towing it toward Mobile, Ala. The Coast Guard say they will continue to escort the vessel safely into port. The ship's last known location was reported to be approximately 108 nautical miles south of the Port of Mobile.

Reporting on the financial impact of voyage disruptions in the first half of Fiscal 2013, Carnival Corporation & plc estimates that the total impact from voyage disruptions and related repair costs will result in an $0.08 to $0.10 earnings per share reduction in the company's 2013 first half.

The Carnival Triumph reported a fire in the aft engine room on 10, February, which was extinguished by the ships fire control system, but left the ship without propulsion. No injuries were reported.