Incat Crowther Launches 26m Catamaran Ferry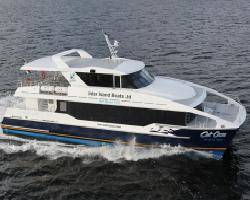 Incat Crowther is pleased to announce the launch of the 26m catamaran, Cat Cocos Isle of La Digue at Richardson Devine Marine in Hobart. The vessel has successfully completed seas trials, where it proved the efficiency of Incat Crowther's hull form by exceeding fuel consumption predictions. The 26m, 227 passenger vessel is the third Incat Crowther designed vessel for the operator, and was designed with the specific goal of reduced capital expenditure and operating costs.

The main passenger deck seats 163 passengers in mostly forward-facing seats, with tables located in booth arrangements for those seats near to the bar aft. There is a forward door with access to foredeck which features bench seats for passengers.

There are three toilets aft, as well as a large luggage room immediately adjacent to a crew gate, allowing quick and easy loading.

An external stair aft leads to the upper deck where there are 48 outdoor seats and an upper deck cabin featuring 16 first class seats. This cabin also houses a mini-bar.

The vessel is powered by 2 x MTU 12V2000 M70. Each of these engines produces 1055hp @ 2100 rpm. Propulsion is via ZF gearboxes through to 2 x 5-bladed propellers. Whilst the vessel reached a top speed in excess of 30 knots on recent sea trials, its fully loaded operational speed of 26 knots is achieved at only 70% MCR, resulting in an extremely fuel efficient solution to the client's operational demands.

Incat Crowther is pleased to have worked closely with RDM to deliver such a cost effective, efficient vessel. Cat Cocos Isle of La Digue proves the long term reward of Incat Crowther's attention to its clients.
Source: Incat Crowther