Fantasea Cruises to Take Delivery of Catamaran Ferry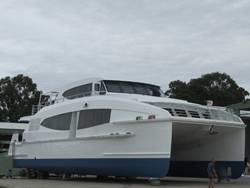 Incat Crowther and Aluminium Marine have confirmed the sale of a 24m catamaran ferry nearing completion in Brisbane. The vessel has been sold to the prominent Great Barrier Reef operator Fantasea Cruises, who will take delivery of the vessel immediately upon completion of sea trials.

When construction of the vessel began in September 2010, it was anticipated that the vessel could be used for either commuter or tour operations. As structural work proceeded, Aluminium Marine and Incat Crowther were approached by Fantasea Cruises to develop a layout for the vessel that suited their reef tour operation. While structural elements remained unchanged through the process, modifications to the interior fit out. A bar/kiosk was added to the main deck aft, utilizing the space under the stairs for storage. Main deck seating was revised to incorporate a mix of forward-facing seats and booths with tables. The upper deck cabin
has been fitted out with stylish lounges with occasional tables.

The vessel is to be powered by a pair of Yanmar 6AYM-GTE main engines. It will have a service speed of 26 knots, with a top speed of 28 knots. Further vessels in same style are also under construction, with announcements due in coming months.