Catamaran from Nova Scotia Yard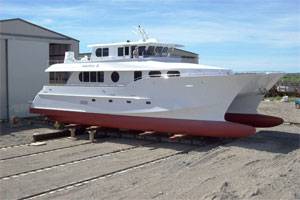 In August 2008 the shipyard of A. F. Theriault in Meteghan River Nova Scotia delivered the Hayfu II, a new $7m catamaran yacht for a Florida owner. It was the owner's second catamaran from the same yard.
Bill Preston of Marine Design and Travis Carver of Sterling Marine did the design of the fiber reinforced composite vessel. Offices of both firms are located in Florida. The 82 by 32 ft catamaran has six staterooms as well as tankage for 2,300 gallons of fuel and 600 gallons of water. Each hull has a Cummins QSM11 main engine rated for 670 hp each. The 1340 hp will drive the twin hulls at 23 knots.
The owner's representatives during construction on the Hayfu II were the yachts Captain Brian Water and his wife Lynn also of Florida.
A. F. Theriault & Son Ltd. is one of the largest, privately owned shipyards in Canada's Atlantic region. Augustin Theriault founded this family business in 1938 in an era where wooden 3-masted sailing ships were still common. Today, a wide variety of modern vessels are built combining traditional techniques with the latest trends and technologies with aluminum, fiberglass and composites.