24m Catamaran Ferry Launches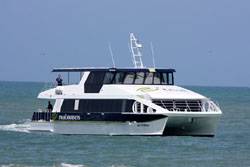 Incat Crowther announced the launch of the 24m Catamaran Ferry Titiroa by Q-west Boatbuilders in Wanganui, New Zealand. The vessel has completed sea trials, and has been delivered to Real Journeys, who will operate the vessel on New Zealand's South Island. The delivery of the vessel is a story in itself. Titiroa will operate on land-locked Lake Manipouri, in the middle of the South Island near Queenstown. The delivery journey entailed sailing Titiroa to Bluff, on the southern tip of the island, removing the roof and transporting the vessel to the lake by truck. Titoroa was specifically designed and built with the removal of the roof and upper deck side structure in mind. Titiroa is the fourth Incat Crowther-designed vessel to be built for Real Journeys, following on from Fiordland Flyer, Patea Explorer and Luminosa.
As well as considerations for transporting the vessel, it was designed with three priorities.
Real Journeys wanted
to maximize passengers' experience of the outside environment. Incat Crowther has implemented design features such as low window sills, large forward windows and a polycarbonate roof on the upper exterior deck. All
windows are double glazed to minimize fogging, whilst the main deck windows also feature gutters above to keep them clear of rainwater. The second goal was to create a vessel that has minimal impact on the environment in which it is operating. Significant steps were taken to reduce the wash generated by the vessel, as well as the fuel used in operation. All waste is stored on board and discharged shore-side. The third goal was to have the vessel be as reliable as possible and minimize maintenance. Due to the remote location of the operation, breakdowns can have a disastrous effect on the operation. The vessel is fitted with a pair of MTU 12V 2000 M70 main engines, each producing 1055hp. On trials, Titiroa achieved its service speed of 25 knots fully loaded at 66% MCR, as well as exceeding 30 knots in a light load condition. This vessel, including its specific design considerations for transport and environmental impact, once again demonstrates why Incat Crowther remains at the forefront of marine design.