London Officer Cadet Meets Princess at Cathedral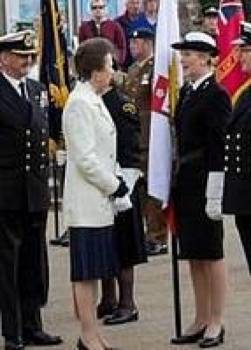 UK P&I Club, Thomas Miller, sponsored cadet Vicki Boltitho met Princess Anne at Winchester Cathedral's annual 'Shipping Festival Service'.
Princess Anne's visit was a tribute to those working in the country's shipping industry. At the cathedral service she read the lesson – from John 21.1-14, where Jesus appears to his disciples while they are fishing.
The service was conducted by the Bishop of Southampton the Rt Rev Jonathan Frost and was also attended by the Lord Lieutenant of Hampshire, the mayors of Winchester and Southampton and other dignitaries.

Vicky was one of the standard bearers in the ceremony seen here with the flag of Warsash Maritime Academy. The service has been held each year since 1930, apart from a break during World War Two.

Source: UK P&I Club