Lloyd's Maritime Academy Celebrates First MBA Graduates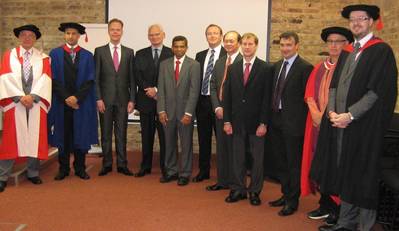 First graduates praise Lloyd's Maritime Academy's ground-breaking MBA in Shipping & Logistics; Limited time remains to sign up for next enrolment in industry's only specialist distance learning MBA.

The first graduates of the Lloyd's Maritime Academy and Middlesex University MBA in Shipping & Logistics have celebrated completion of the course in July 2012 and given a ringing endorsement of this unique professional development programme. Some 27 of 70 graduates made the journey to London to see their achievements recognised in a ceremony held at the Hendon Campus Middlesex University Business School. Presided over by The Rt Hon Lord Sheppard of Didgemere, Chancellor of the University, the ceremony saw students individually collect their scrolls from Anna Kyprianou, business school Dean, who is also one of the Module Leaders on the programme.

Launched in 2009, the ground-breaking MBA is the only course of its type delivered exclusively by distance learning. The programme is designed to maximise opportunity by accepting applications from students with both vocational and academic experience – a rarity at such a high academic level.

Completing the course has had a profound impact on the first intake of students, with feedback confirming the value that the MBA brought to a diverse range of participants, during the course and in their careers.
Jaime Gonzalez-Gil, Project Officer for Port State Control at the European Maritime Safety Agency says his aim in taking the MBA was to gain a better understanding of shipping. "The MBA programme provided me with the tools to develop capabilities to play a key role within the maritime industry." And he says he would recommend the course without hesitation. "I would definitely [recommend it], the MBA in Shipping and Logistics is the reference programme for those wishing to succeed in shipping."

Master mariner Taslim Imad of MOL Bulk Shipping had researched a number of courses but found there were few options for seafarers and little flexibility in terms of attendance. "When I looked at the MBA in Shipping and Logistics, I knew it was for me." Completing the MBA brought immediate benefits. "When I was working away on ships, I used to apply for shore jobs but could not get short-listed. On the first application I made after completing the MBA, I was not only short-listed for the interview but I got a job offer straightaway."

Taslim says the course was demanding, but the results of gaining the qualification have exceeded his expectations. "I look at the shipping industry in different way now and I really think outside the box. It has developed my personality and given me confidence. All I can see is an upward direction in my career." Peter Jackson of Seaspan Ship Management Ltd gained a promotion to director following his completion of the programme. "This MBA has challenged me academically and personally," he says. "Embarking on this type of distance learning course at Master's level developed my ability to manage time, stress and priorities. I really enjoyed the experience."

The inaugural MBA in Shipping & Logistics registered very strong demand, which has continued in succeeding years. Applications for the next intake close on 10th August and Lloyd's Maritime Academy Managing Director Jeff Hearn says those who have expressed an interest should file their applications without delay. "Together with Middlesex University all of us at Lloyd's Maritime Academy congratulate the MBA students on their graduation. As our first intake, we feel proud to have been able to support them in their career development paths. For those who are inspired to take the course, time is running out – we need to receive your applications in the next three weeks for them to be considered."
Further information on the course content and structure, along with details of how to apply for the 2012 MBA can be found at: www.mba4shipping.com/.