Marine Artist John A. Noble: Birthday Centenary Celebrations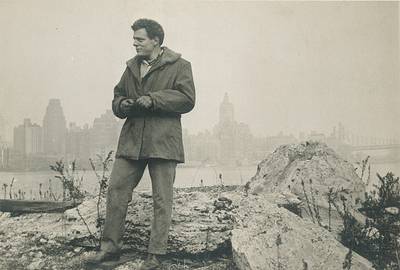 The Noble Maritime Collection is set to celebrate the 100th anniversary of the Staten Island seaman artist.

John A. Noble
From 1928 until 1945, Noble worked as a seaman on schooners and in marine salvage. In 1928, while on a schooner that was towing out down the Kill van Kull, the waterway that separates Staten Island from New Jersey, he saw the old Port Johnston coal docks for the first time. Filled with new but obsolete wooden ships, the great coalport had become a great boneyard. In 1941, Noble began to build his floating studio there, out of parts of vessels he salvaged. From 1946 on, he worked as a full-time artist. Often accompanied by his wife, he set off from his studio in a rowboat to explore the Harbor. These explorations resulted in a unique and exacting record of Harbor history in which its rarely documented characters, industries, and vessels are faithfully recorded.
Anniversary celebrations
To mark the 100th anniversary of Noble's birth the Noble Maritime Collection will present 'Tides of 100 Years', a celebration of the milestone, and on Saturday, March 16, 2013 at 8 PM, the museum will host a birthday party and premiere a documentary about Noble by Staten Island filmmaker Michael McWeeney.

The evening will also mark the opening of a biographical exhibition, with family memorabilia, photographs, and art that describes Noble''s career. Eccentric features of his former home at 270 Richmond Terrace will shed light on his personality.

The party will feature cocktails hors d'ouevres and dancing to music by Queen Tipsy and her band. Tickets are $100 per person.

On Sunday, March 17, 2013 at 2 PM, the museum will host a free public reception that will include two showings of the new film and refreshments.

For tickets and information, call the Noble Maritime Collection at (718) 447-6490 or click here.