New Coast Guard Cutter's Keel Ceremonially Etched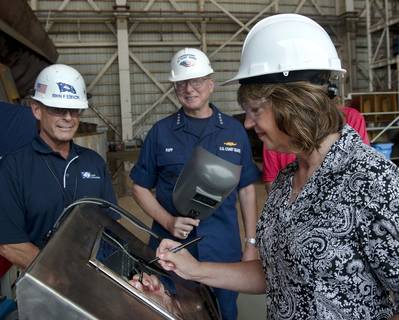 Ingalls Shipbuilding authenticates the keel of U.S. Coast Guard National Security Cutter 'Hamilton' (WMSL 753) with sponsor's intitials welded in.

Mrs. Linda Kapral Papp, wife of Adm. Robert J. Papp Jr., commandant of the U.S. Coast Guard, is the ship's sponsor. Her initials were welded on a keel plate that will be part of the ship as long as it remains in the operational fleet.

Ingalls has delivered three NSCs, the flagships of the Coast Guard's cutter fleet. They are designed to replace the 378‐foot Hamilton-class high-endurance cutters, which entered service during the 1960s. Hamilton (WMSL 753) is the company's fourth NSC and is scheduled to be delivered in the third quarter of 2014. A fifth NSC, Joshua James (WMSL 754), has begun construction, is currently 4 percent complete and is expected to be delivered in the second quarter of 2015.

Ingalls builds the NSC hulls and mechanical and electrical systems, while Lockheed Martin builds and integrates the command, control, communications, computers, intelligence, surveillance and reconnaissance (C4ISR) capabilities.

NSCs are 418 feet long with a 54-foot beam and displace 4,500 tons with a full load. They have a top speed of 28 knots, a range of 12,000 miles, an endurance of 60 days and a crew of 110.

The Legend-class NSC is capable of meeting all maritime security mission needs required of the high-endurance cutter. The cutter includes an aft launch and recovery area for two rigid hull inflatable boats and a flight deck to accommodate a range of manned and unmanned rotary-wing aircraft.

"Today represents a significant milestone not only in the construction of NSC 4, but in the NSC program overall," said Ingalls Shipbuilding President Irwin F. Edenzon. "We have reached stability in the design and in the NSC class-build plans."

"Hamilton will be the most capable and technologically advanced cutter in the history of our service," said Adm. Papp, the principal speaker at the keel authentication."