BMT Engineer Competes in Sky1 TV Challenge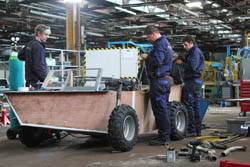 Naval Architect Sam Stevens, from BMT Nigel Gee Ltd, a subsidiary of BMT Group Ltd an international maritime design, engineering and risk management consultancy recently undertook one of the biggest engineering challenges of his career to date.
Sam was part of a team of four competing in the Sky1 premiere of SAFEBREAKERS, a brand new series produced by Maverick TV, hosted by Ben Shephard. Sam and his team were tasked with building an amphibious car from scratch, with a budget of £1000. After just two days designing and building the special machine, his team, The CADS, went head to head with fellow engineering enthusiasts to battle it out for the top prize of £5,000, secured in a safe in a seemingly inaccessible location.
This fast paced, engaging series encourages mind power and problem solving. Each week two teams must construct their own vehicles, from fire engines and bulldozers to cranes and tanks, in a mechanical challenge that will push them to their limits. To win the money, the teams must collect the numbers needed to crack the code on the safe with speed and agility, which is easier said than done.
Sam Stevens explains: "Building a car in just two days was certainly no mean feat, but we were very proud of the end result. The most challenging aspect of the design was the compromise between the required performance on land and water, whilst adhering to the limited budget for parts and materials and the very short timescale in which to build the machine. All this required some innovative engineering!"
Paolo Proto, Series Producer for Maverick TV comments: "SAFEBREAKERS is a rugged boy's adventure, an entertainment show that celebrates the best of British innovation, ingenuity and engineering skill."
After graduating with an MEng (Hons) in Ship Science, Sam joined BMT Nigel Gee in 2006 and currently works in the structural department on a range of projects from Yacht designs to the new range of Windfarm Support Vessels being designed by BMT.
SAFEBREAKERS begins on Sky1, Monday 15th August at 8pm. You can see Sam in action in next Monday's programme.