Changes at PRS Helm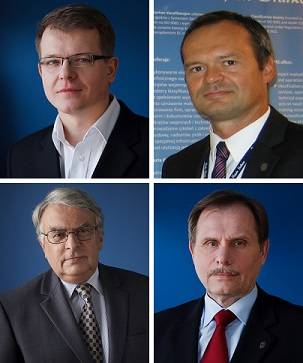 Polish Register of Shipping announces that the long-serving President of the Board of the classification society Dr. Jan Jankowski, and Board Member Jerzy Wyrzykowski are stepping down from their posts in June in 2013. They had been at helm of the Society for 16 years.

Under their leadership PRS developed and instigated proceedings for passing a law in Polish Parliament to recognize Polish Register of Shipping as a non for profit organization, free of share holders commercial pressures, allotting the society's income to development of the Society and R&D work for enhancing safety.

Further work on restructuring, developing and improving the Society's quality performance led to EU recognition of PRS under the Directives for sea-going and inland navigation ships and to accreditation and notification for compliance with other Directives. The re-accession to the International Association of Classification Societies in 2011 capped the Society's efforts to be among the most credible and reliable classification societies serving the maritime community.

Dr. Jankowski started his ship-related career as a hull assembler at a shipyard. Graduating in naval architecture in 1976 at Gdansk Technical University he joined the Polish Register of Shipping as a field surveyor in PRS branch offices.

In 1981, promoted to Head Office, he focused on development of Rules for hull, which required further studies at the Faculty of Mathematics at Gdansk University.

In 1992 he was granted a PhD in wave loads acting on ships.

He has served classification for over 37 years with the Company, was appointed Head of the Polish Register of Shipping in 1997, later becoming President of the PRS Management Board within a new organizational structure.

Jerzy Wyrzykowski, a graduate in naval architecture at Gdansk Technical University, worked for the Merchant Navy Academy in Gdansk dealing with stability matters, and joined Polish Register of Shipping in 1983. For a short time he was a field surveyor in Gdansk shipyards, and was next promoted to H.O. Hull Department. Involved in IACS matters and internally in restructuring PRS he served as a Member of the Board of the restructured Company.

PRS regularly, in the person of Dr. Jankowski, provided support to the Polish authorities in developing concepts presented at IMO MSC meetings contributing to the development of Goal Based Standards – Safety Level Approach.

Dr. Jankowski will continue his scientific work in PRS R&D Department focusing on safety criteria for both small boats and seagoing vessels, and Mr. Wyrzykowski will handle IACS related matters in PRS. The Society left in the hands of the new Management Board is ready to face oncoming challenges.

The newly appointed Management Board at the helm of PRS

Dariusz Rudziński was nominated to assume the position of PRS Board President and Grzegorz Pettke, the position of PRS Board Member. Both recruit from amongst PRS experienced executives.

Mr. Rudzinski, a graduate of the Gdynia Maritime University had served as deck officer on board various vessels. He jointed PRS in 1996, initially as a field surveyor to be later promoted to manage PRS branches offices in Gdańsk and Piraeus, and in 2002 to the position of PRS Commercial Director.

Grzegorz Petkke has been with PRS for the last 16, starting as a technical assistant, surveyor, and later assuming the post of the Head of the Electrical Department. Having graduated from the Gdynia Maritime University he took up employment with the Maritime Search and Rescue Service and gained experience at sea as electric officer on board vessels flying various flags.

The new Board is fully aware of the changing role of classification societies in shipping and the offshore sector as well as the shift of class societies towards devoting more resources for providing tools facilitating compliance with regulations in force. The surrounding technical environment, instant data flow between ship, operator and class technical support ensure a driving force for better service and ultimately safety at sea. Nevertheless, the 'classification culture' developed through decades is worth continuing.