Grove Crane for Chauncy Maples Project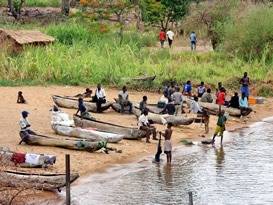 The 'Chauncy Maples' project aims to bring health care to Lake Malawi's poor by renovating Africa's oldest motor ship.
The charitable trust announce the purchase of a reconditioned Grove crane with 25 ton lifting capacity to lift the engine, generators, fuel and freshwater tanks into the hull. It will soon be on its way to Monkey Bay from Durban.
Ross Girdler, the project manager, conveys his thanks to the Ministry of Finance and Malawi Revenue Authority for all their help and support now that essential goods and equipment are starting to be shipped into Malawi, exempt from duty and taxes. This includes the Grove crane and a scaffolding tower.
The Chauncy Maples project on Lake Malawi combines:
• health service delivery

• preservation of Malawi's marine heritage

• green engineering by recycling a 19th century vessel

• marine and engineering training

• national symbol of pride for Malawi