Chemoil Low Sulfer Fuel Oil Barge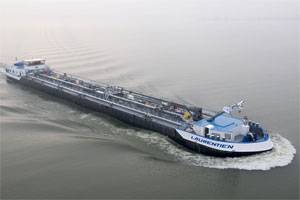 Chemoil, physical suppliers of marine fuel products, has added to its barge fleet with a new delivery barge dedicated to the supply of low sulfur fuel oil in the port of Rotterdam. The newbuild will improve the efficiency and safety of its services as demand for LSFO continues in the Antwerp-Rotterdam-Amsterdam (ARA) region.
Named the Laurentien after the Dutch Princess from the Royal House of the Netherlands, the new bunker barge has a range of capabilities that are suited to LSFO deliveries including fast pumping capabilities of 500/600 metric tons per hour to ensure quick customer turnaround times. It is also double-hulled and double-bottomed to meet MARPOL Annex I safety standards.
The vessel is currently operational and has been time chartered from FTS Hofftrans, one of the ARA region's carriers of marine fuel products. Chemoil has a 49% share ownership in Hofftrans' parent company, Burando Holding B.V.
Chris Stoddard, Managing Director, Chemoil Europe B.V. said, "Chemoil has been at the forefront of supplying LSFO in Rotterdam for a number of years. We were the first suppliers to dedicate barges to the exclusive delivery of LSFO in order to maintain the highest quality and service standards. Going forward, it is essential that we continue to strengthen this delivery aspect of our supply chain and support this with the utilization of appropriate vessels."