Chemoil's Deliveries in GOM Reach 850,000 MT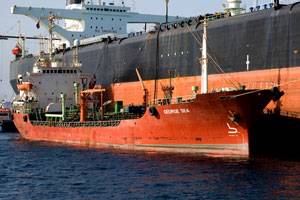 SGX Mainboard-listed Chemoil (SGX-ST: CHEL.SI), physical suppliers of marine fuel products, has delivered more than 850,000 metric tons (mt) of marine fuels since the commencement of its offshore supply service in the Gulf of Mexico in August 2007.

Launched 22 months ago, Chemoil's marine fuel supply service via Ship-to Ship (STS) operations is supported by chartered tankers MY Atlantic and Nordic Ruth. With a combined storage capacity of 50,000 mt of marine fuel, the two tankers provide continuous supply to sufficiently meet current demand in the US Gulf, and have the ability to undertake more voyages or increase tonnage as demand warrants.

The operation provides for continuous supply coverage and service flexibility to very large crude carriers (VLCC) and smaller tankers in multiple locations including, but not limited to, Offshore Galveston, Texas and the Louisiana Offshore Oil Port (LOOP). Chemoil's delivery service has a zero-incident record.

This offshore bunker service filled a gap in the market by providing customers with the economic and operational benefits of combining lightering and refueling in one location instead of making costly and time consuming deviations to refueling locations like the Caribbean. Taking bunkers from an approved offshore STS zone has also enabled ship owners to avoid paying high barging fees and making bunker only calls in US and Caribbean waters.