MV Rickmers Chennai Christened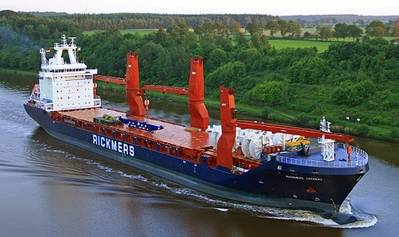 One of the multi-purpose ships operating on Rickmers' service between Europe and the Middle East/India has been christened Rickmers Chennai.

The former Pacific Winter was renamed in a ceremony in Hamburg yesterday, by Dr Christine Winter, daughter of owner Heino Winter, acting as sponsor of the vessel.

The 19,100-dwt Rickmers Chennai has been on long-term charter from Reederei Heino Winter since April. With her 800-ton lift capacity, the 2012-built Rickmers Chennai, together with sister ship Rickmers Dubai ex Baltic Winter, has proven to be a successful addition to the Rickmers-Linie fleet, the company said.

"We now have four vessels on charter from Reederei Heino Winter," said Ulrich Ulrichs, Rickmers-Linie's Chief Operating Officer and Managing Director. "Both the two smaller vessels, Rickmers Chittagong and Rickmers Mumbai, as well as Rickmers Dubai and her sister Rickmers Chennai, which was named yesterday, enable us to offer increased flexibility on our Middle East/India – Europe Service."

He added, "We work in close partnership with the team at Reederei Heino Winter, and this relationship has allowed us to expand our services and offer a greater choice of ports to our customers."

About 200 guests and employees of Reederei Heino Winter and Rickmers-Linie enjoyed a dinner to celebrate the naming of the Rickmers Chennai. Deputy Port Captain Andreas Brummermann used the occasion to present the Captain of the Rickmers Chennai with the Admiralty Coat of Arms, a traditional present to all ships calling at the Port of Hamburg for the first time.

Vessels on Rickmers-Linie's Middle East/India – Europe Service call at a varying range of east coast and west coast ports in India and at ports in the Middle East.