Clarksons Gift Rescue Boats to Sailing Centre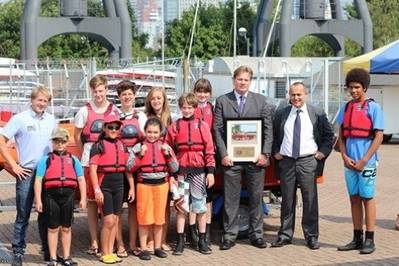 Clarksons recently visited the Docklands Waterports and Sailing Centre (DWSC) near Canary Wharf on the UK's River Thames to officially launch the two new rescue boats it has bought for the organisation.
The state of the art Rigiflex boats - named after two esteemed late Clarksons' Chairmen, Sir Alexander Glen and Sir Carron Greig - will enable DSWC to increase the number of participants that can be tutored on the water at any given time.
The DWSC is located in the Milwall outer dock, in the heart of London's Docklands, and offers sailing, windsurfing and canoeing courses to both able bodied and disabled children and young people. It runs a popular weekly youth club and school holiday programmes for local children - many of whom would otherwise never have the opportunity to experience sailing or other watersports. It relies on private and corporate funding to survive and Clarksons is proud to have helped the Centre in this way.

Pictured: Clarksons' Will Stephens and Jeff Woyda with some of this summer's DWSC instructors and participants.